Qualifications:
Miles has more than 35 years experience in the Information Technology field with 16 years of supervisory and management experience in fields including, local government, international finance, satellite communications, health care, quality assurance, multimedia computer based training, Department of Defense and several branches of the U.S. Armed Forces. The following are some of the positions and projects of Miles' career. Details of these accomplishments are available upon request.
Managed various size computer support centers, and software development and implementation teams including daily operation and personnel management.


Managed large cryptologic teams employing military, civilian and government personnel and providing support to over 3,000 personal computer systems located worldwide.


Developed Corporate Technology Strategy and procedures including: Disaster recovery, security, configuration management and standards for technology and training.


Developed multimedia computer based training and electronic publication including digital audio/video recording, editing and voice-over.


Prepared and presented over 600 hours of formal training briefs to Staff and Executives on the subjects of data processing and management, communications, physical and computer security, and safety. Prepared and distributed several training and standard operating procedure (SOP) manuals and guides.
Career Highlights
As Software Support Specialist for the Northwest Regional Council (NWRC) he fulfulled the position of acting manager of information systems and in less than a year brought most of the organizations systems and software up to date, much of which hadn't been updated in many years. This project also included providing documentation for access, maintanance and to be used as part of the Disaster Recovery Plan.



Planned and implemented Windows 7 rollout with minimal downtime to over 70 workstations at two locations.
Implemented a call tracking system (Spiceworks) for logging all customer service calls.
Provided input to the new NWRC Security Policies manual regarding Information Technology
Planned and coordinated COMCAST service for use by HAP and other non-DSHS compatible traffic.
Coordinated the upgrade of the phone system software for display, monitoring and reporting.
Purchased, configured and installed a new Cisco Series 200 switch at the remote office location.
Planned and completed Installation/Implementation of the Health Action Plan (HAP) server which includes not only the HAP software but the ability to transfer files as needed via SFTP and receive files via an HTTP/FTP server. This included configuration of the CISCO security device to meet strict HIPPA standards. This project included coordination with a contractor for initial build and coordination with CISCO Technology team for proper configuration of the security device. This server is also configured as a Remote Desktop Services host.
Planned and completed installation of a new database server including coordination with a contractor for initial build based on provided specifications while Miles completed the actual MS SQL 2014 install and configuration.
Planned and completed migration of the TABSPlus system from the old MS SQL 2005 database server to the new MS SQL 2014 database server. This included configuring daily application tasks and server based maintenance tasks including backup. This also included upgraded and configuring all clients to connect to the new server, server-side software and email configuration. No downtime or data loss reported.
Planned and completed migration of the Accounting system (Abila Fund Accounting) from the old MS SQL 2005 database server to the new MS SQL 2014 database server. This included configuring daily application tasks and server based maintenance tasks including backup. This also included upgraded and configuring all clients to connect to the new server. Minimal downtime and no data loss reported.
Planned and completed migration of the Timesheet reporting system (Microix Workflow Modules) from the old MS SQL 2005 database server to the new MS SQL 2014 database server. This included configuring daily application tasks and server based maintenance tasks including backup. This also included upgraded and configuring all clients to connect to the new server. Minimal downtime and no data loss reported.
Assisted with the installation of the Abila HR Managements software and DrillPoint software which are client-side add-ons to the accounting system.
Assist in the hire of a part-time technician, and trained the tech to assist with several projects including but not limited to erasing old hard drives to DOD specifications and configuring new computers.
Assist in the selection and purchase of new equipment including but not limited to servers, printers and workstations as needed.
As a Business Analyst for Skagit County he assisted the departments in finding solutions in support of the Skagit County Strategic Plan to Provide efficient, effective and responsive service. He is also the BMC Service Desk Express (SDE) Administrator, Programmer and Database Analyst responsible for the requirements analysis and redesign and reimplementation of SDE Version 10.x to be used by several departments for call and incident tracking and reporting, and the associated work flow and integration with related systems.

Additional accomplishments as Business Analyst for Skagit County included but are not limited to:



Development of a Countywide technology orientation and training program (known as Bits n Bytes) providing workshop style training to Skagit County employees on topics such as Computer Performance, Email, Computer Security, Document Management and effective use of County Technology Resources.


Assisted in the integration and migration of the Access Skagit County (Skagit21) Television station to the Information Services department including documentation of the current system hardware and software and assisting in establishing the current work-flow and content programming. Provided support as live broadcast Audio, Graphics, Video and Programming technician as needed for the weekly broadcast of the Commissioners Meetings and other broadcasts as required.


Acted as Assistant/Backup for the station manager as needed and authored the Make the most of your Appearance guidelines for Access Skagit County Television.


Initiated Skagit County s automated use of Social Media sites such as Facebook and Twitter to support transparency and to provide updates to the community


Assisted in the submission of the The Center for Digital Government's, Digital Counties Survey for which Skagit County has placed in the top 5 Nationwide for several years.



Project Manager for Automated Information Management, Inc (AIM, Inc) responsible for the life-cycle development and implementation of the Training Ammunition Management Information System Redesign (TAMIS-R) employing over 20 programmers, web developers, trainers, network staff and graphic artists to support over 6,000 users worldwide. Project included migration of the functionality of a dial-up COBOL based mainframe program supporting a small group of users to a web accessible application that met the standards for security, hardware, software and policy of all U.S. Army training facilities worldwide. TAMIS-R is primarily used by the U.S. Army to monitor, report and forecast the use of training ammunition worldwide to Pentagon officials for submission to Congress for budgetary planning.


IS Manager for The Forum Group and then consultant to Marriott International (who acquired The Forum Group, Inc) initially supervising the relocation of all corporate technology, including LAN, mainframes, PC's and telephones, from Indiana to Virginia and procured, configured and distributed desktop and laptop PC's throughout the corporate headquarters and 42 communities located nationwide. Following the relocation additionally assisted in the planning, and supervised migration of all corporate technology including LAN, mainframes, PC's, accounting system and remote access to Marriott International Senior Living Services from The Forum Group, Inc.


Miles is a proud Veteran of the United States Navy. During his military career, Miles achieved the rank of Petty Office First Class as a Cryptologist, then cross-trained to Data Processing and became eligible for Chief Petty Officer. He held a Top Secret (SBI) Clearance for his entire time in the military (1977-1991) and later as a civilian was granted Secret clearances by the Department of Energy and Department of Defense. Details of his unclassified assignments and projects available upon request.
Additional details or information is available on request.

What sets Miles apart is his diverse background, coupled with his big-picture approach and keen understanding of technology. He is a problem solver that does not rely on cookie-cutter solutions. He is able to root out the true requirements of the challenges brought to him, and attempts to find the most appropriate solution to meet each challenge.
Details or examples of any of the projects or technology listed on this page are available upon request.
---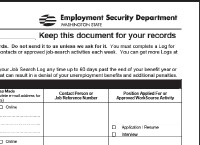 Enhanced Washington State Employment Security Department Job Search Log
With as many people having to fill out the Washington State Employment Security Department's Job Search logs each week, one would think there would be a digital version of the form. Not just a version you can fill out and print, but a version that allows you to also save the information you added. Unable to find an Acrobat Reader Extended .PDF, I created one. With this version you can not only enter your search contact information and print the forms, but you can also save the forms with the entered information as well. I recommend creating a file (with SAVE-AS) for each week. You will still have to print these off for when you are audited. Click here to download the Washington State Employment Security Department's Job Search Log.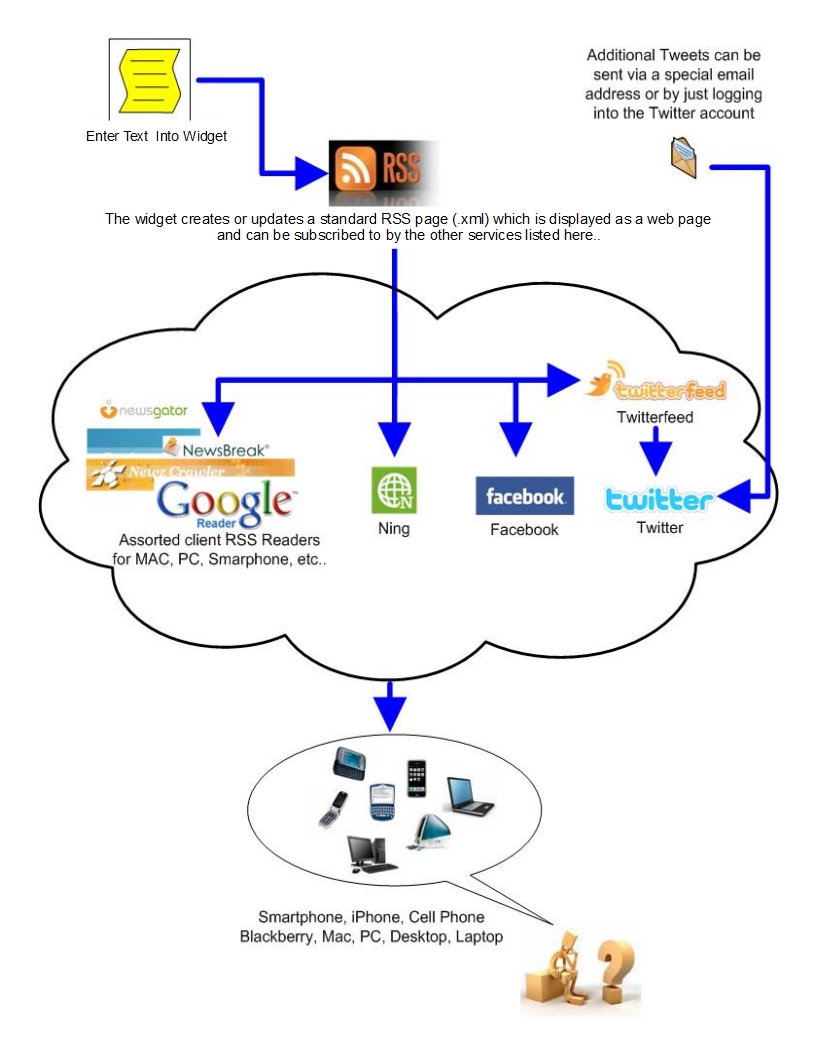 Automated Social Network Content Distribution
A widget and a methodology around RSS Feed technology enabling content to be easily distributed/updated on Web Sites and Social Networks. Initially designed for use in local government to provide as many choices as possible to access the latest information and news, the model adapts to local businesses such as restaurants who have "daily specials" or forums or even blogs, easily distributing content to web-pages and social networks from a single point of input at almost no cost.
The above graphics are not actual ads, but representations to demonstrate this utility.
Customized "Banner Ad" Solution
A Javascript based Banner Ad system with several unique features to insure the most content is seen by the most visitors.
Banner content changes on the page at pre selected intervals rather than being just randomly chosen static ads as most banner systems.
The initial ad may be randomly chosen or fixed. The following ads will appear at the pre-determined intervals.
Click-through is tracked per ad enabling you to monitor and report the actual clicks to your advertisers.
System is also adaptable to display content with or without tracking or even click-through.
Banner content can animated, or static images. Banner content is not restricted to any particular shape or size.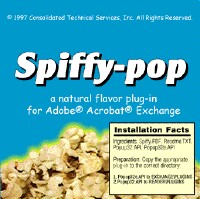 Spiffy-Pop for Adobe Acrobat
Spiffy-Pop Version 1.0 was initially released for Win95/NT and added the feature of using simple pop-ups to enhance PDF files. Spiffy-Pop consisted of the Pop-up Exchange Plug-in and the Pop-up Reader Plug-in.
The Pop-up Exchange Plug-in was used with Adobe Acrobat Exchange, and enabled users to create pop-up annotations in PDF files.
The Pop-up Reader Plug-in was used with Adobe Acrobat Reader and enabled users to view pop-ups in PDF files created with Adobe Acrobat Exchange using the Pop-up Exchange Plug-in.
This product is not longer available as these features were eventually added to later versions of Adobe Acrobat.
---
Additional Projects
BMC Service Desk Express 10.x Developer/Analyst and Administrator
Electronic Data Recorder (EDR) in support of the nationwide Department of Energy Quality Assurance program.
Multimedia CBT products for Scoring, Student Data Security and Test Presentation.
Multi-user Help Desk Work Order Tracking System (Hotline).
With his diverse background in Customer Service, Programming, Marketing, Entertainment and Web Development, Miles has a creative edge in being able to design websites that speak to his clients needs, not just provide a cookie-cutter solution. Miles-Kevin Baron along with business partner Jeff Martini, created Victory Enterprises, LLC. which not only provides professional and affordable web solutions, but overall technology consulting as well. Victory Enterprises, LLC is also a cloud based ISP enabling them to provide a variety of turn-key web and cloud based solutions.
Details of Miles' involvement in the below sites is available on request.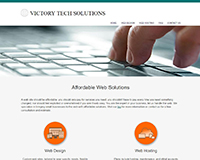 Victory Tech Solutions
Affordable Web Hosting and Design services.A web site should be affordable; you should only pay for services you need, you shouldn't have to pay every time you need something changed, nor should feel exploited or overwhelmed if you aren't web-savy. You are the expert in your business, let us handle the web. We specialize in bringing small businesses to the web with affordable solutions.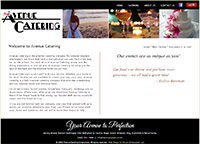 Avenue Catering Enterprises
Avenue Catering is the premier catering company for Greater Western Washington. Avenue Catering has been operating for over 10 years. It was created to fill a need; that need was great food that could be served anywhere, anytime. Whether your event is for 10 or 10,000, we are available to create your day, your way. Avenue Catering is a fully licensed catering company that provides outstanding service, luscious decor and delicious food.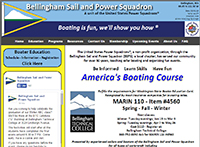 Bellingham Sail and Power Squadron
The United States Power Squadrons®, a non-profit organization, through the Bellingham Sail and Power Squadron (BSPS), a local chapter, has served our community for over 50 years, teaching safer boating and organizing fun events. Organized in 1914, the United States Power Squadrons® (USPS) is a nonprofit, educational organization dedicated to making boating safer and more enjoyable by teaching classes in seamanship, navigation and related subjects.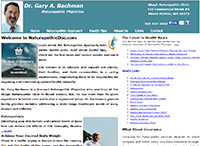 Skagit Naturopathic Clinic
Dr. Gary Bachman is a licensed Naturopathic Physician who practices at the Skagit Naturopathic Clinic in Mount Vernon, WA. He has more than 40 years experience in health care and is also a registered nurse. Dr. Bachman's general family practice includes addressing a wide range healthcare needs of men, women and children.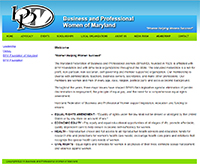 Business and Professional Women of Maryland(BPW/MD)
The Maryland Federation of Business and Professional Women (BPW/MD), founded in 1929, is affiliated with BPW Foundation and with BPW local organizations throughout the State. The Maryland Federation is a not-for profit, non-partisan, non-sectarian, self-governing and member supported organization. Our membership is diverse with administrators, teachers, business owners, secretaries, and many other professions. Our members are women and men of every age, race, religion, political party and socio-economic background.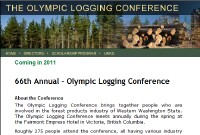 Olympic Logging Conference
A e-commerce and information website in support of the annual Olympic Logging Conference. Some pages are hidden except during registration for the event. Registration is done online via PayPal, and provides the option for attendees to select which activities they will take part in, some of which have additional fees.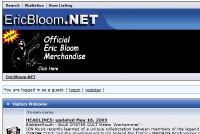 The Eric Bloom Network
An ecommerce and member subscription site based on a highly customized MegaBBS forum.



The Victory Riders Network
A social network on the Ning platform with its marketing presence on Facebook®.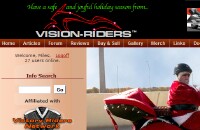 The Victory Riders Model Specific Sites (Vision-Riders, Kingpin-Riders, Vegas-Riders, Cross-Riders, Hammer-Riders)
A motorcycle enthusiast website created using web 2.0 technologies. Customization includes but is not limited to RSS Feeds that automatically update to Twitter, Facebook and the Victory Riders Social Network, Proprietary Banner Ad programming, and many other automated processes for displaying Articles, Store Merchandise, recalls, tech bulletins and blogs.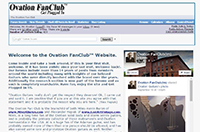 The Ovation FanClub™
A forum and information site for the Ovation guitar enthusiast community.